KIDS EDU
International preschool & academy
Preschool
Afterschool
Infant school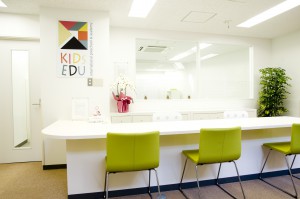 MESSAGE
Early childhood is the most important stage to develop a child's character. It is like drawing pictures with a variety of colors on a white canvas. I would like children to have an access to an aesthetic and moral education, which ranges from good manners to proper education, during such a significant period. I brought up my child under the Montessori education method. I also had him take elementary school exams. These experiences assured me that providing an aesthetic and moral education develops children's full potential to become internationally active leaders in the future.
The name of our company "Pas À Pas" means "step by step" in French. With this word, we hope children will learn from experiences step by step. KIDS EDU adopts a method called the Montessori education, which is designed to take full advantage of children's desire to learn and to promote the development of the aesthetic aspect during early childhood. Through different experiences, children can see, hear, feel, taste and smell things around them. Cultivating a wide range of sensibilities will be the basis of the children's personality development. To think by themselves and to express their ideas allow them to be independent, competent, responsible and considerate towards others.
In our preschool class, the curriculum is designed to encourage children to have a global outlook, exposing themselves to English through a playful indoor and outdoor class experience. In our Montessori class, children can enrich their aesthetic sensitivities. Aside from that, we have infant classes which train children in a way that will help them pass the entrance exams for prestigious kindergartens and elementary schools. We also provide a variety of after school activities, such as piano lessons, violin lessons, eurhythmics classes, and arts and crafts classes. It is our pleasure to help your children develop a range of important skills. We wish to work side by side with the parents in this very significant stage when children explore things around them.
PROFILE
Representative director Kiyoko Takahashi
1970 Born in Tokyo.
A private futaba elementary school, a junior high school, a high school, the department graduation of Tokyo Woman's Christian
University British-American literature.
It is linguistic studying abroad to London during enrollment in school.
Moreover, it is after [ license acquisition and marriage ] and flower arrangement classroom superintendence, such as the tea ceremony, dressing, flower arrangement, and flower arrangement, from under enrollment in school.
Concern about early childhood education increases after elementary school taking an examination of the eldest son, and The side small-child classroom of a flower arrangement classroom, Private teacher & babysitter service for small children "pazapa cultivation-of-aesthetic-sensitivity research institute" is established in a coaching school through a small-child ?
schoolchild's taking an examination and educational guidance as lecturer service, a private teacher, and educational sitter.
In March, 2012 as study space which cherishes children's possibility and it continues studying very enthusiastically itself, A KIDS EDU International preschool & academy is opened as study space which both the small children with whom three educations, International preschool, a small-child classroom, and an after school, were compounded, and schoolchildren can study.