Preschool
For the future of children
~the learning space to nurture the possibility~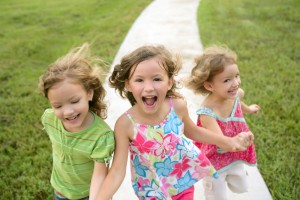 In kids edu, the early-childhood-education curriculum "creative curriculum" of United States No.1 at a base, The learning environment, the music & movement based on a child's developmental stage and interest field, The adaptation power to international society, the power which it continues studying very enthusiastically, and children are provided with the highest study opportunity through academic study of pleasant activities, such as a creative art and drama chic play, a block, toy, and a library, a science, Massu, Rita Lathi, etc.

Program
Our preschool curriculum's main goals are for the children
to have many experiencesthrough the plays and for them to get along well together
before they go to the kinder-garten.
We help the children develop their self-confidence, independent thinking and
self control, as well as their physical skills through a large variety of methods, such
as group activities and play. The native-speaking teachers are giving the lessons
so that the children can speak, listen, and communicate in English. We give them a
chance to start developing an internationally minded outlook on the world around them.




DAILY PLAN
DAILY PLAN
【10:00】
Check-in~Work Time
【10:30】
Circle Time
*Music&Movement
【11:00】
Outdoor
【11:45】
Special Activity
*Arts&Crafts, Cooking, etc.
【12:00】
Lunch Time
【13:00】
Work Time
【13:30】
Circle Time
*Group Game,Story,Music&Movement
【14:00】
Check-out

Preschool(a portal website)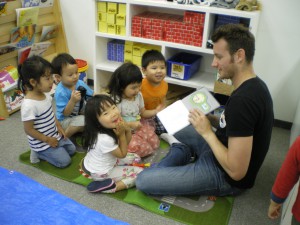 M&M – Music & Movement Infant & Toddler Class
Enjoy Fitness, listening to English Sound
Infant English Class to obtain English Rhythm and Expression
M&M – Music & Movement is defined as play to move body in tune with English sound and rhythm.
Children can master rhythm and expression in English through pleasant plays with English teachers.
M&M also applies principle of USA infant education program which employs art,
dramatic play and story in line with growth stage, thus supporting infant balanced development in creativity,
thinking ability, emotion, sociality, linguistic ability and exercise,
M&M is the best-matched tool for introductory class of English school.
Kinder School
Command of English is developed through a creative activity.
The kindergartener class which used the U.S. Kinder program as the base
Enhance English Ability Through Creative Activities
Infant Class Developed In Line With USA Kinder Program
It's the class for the kindergarten students.
It's a two-hour lesson so that the children can think logically
and communicate in English through the lessons of art, science and math,
and also they can express themselves and write in English through the class of phonics and literacy.
The fun time with the native-speaking teachers help the children to drastically enhance curiosity
and confidence in English along with communication skills in English.
Service
Special Event+
We have fun events such as Easter Party, Halloween Party, and Christmas Party through the year.
We also have the short summer school, the parties for the families, the field trip,
and the events for the community.
Parent's Education
We offer the parents the seminars to study while the children are taking the classes.
We would like to offer the parents an insight into the latest preschool
and kindergarten education ideas from America. We also have "the childcare seminar"
and "the career-up seminar" for the new age.
Resource Shop
We periodically introduce attractive study resource which is directly imported from USA for children's use in our school. They include fun-filled CD educational tools for M&M, Story Time picture books, art materials, dramatic play items, toys and blocks, etc.